Services Band Resume Song list Information form Wedding Links T-BIRDS / Pictures Live Music Unique Ideas 25 facts to Know


| | |
| --- | --- |
| | Weddings |
| | Private Parties |
| | Bar / Bat Mitzvahs |
| | Corporate Events |
| | Fund Raisers |
| | Atlantic City Shows |
| | Ceremonies |
| | Cocktail Hours |
| | Oldie Show / The T-BIRDS |
| | D.J.'s |
| | Sound Systems / Light Shows |
| | Band / D.J. Package |
ONLINE ENTERTAINMENT Proudly presents the Band ONLINE --- "Music for all Occasions"



Our Mission

If you are looking for a versatile, professional, high energy Band to
make your Party the greatest it can be, look no further. ONLINE is the
only Band!!! ONLINE will create the excitement to energize your guests
and make your Special Event or Wedding day a great day!!!
The Band ONLINE has been together over 20 years. We were formerly
known as THE T-BIRDS for many years and still perform as THE T-BIRDS for
specialty events. The entire band is made up of top notch musicians. We
thoroughly enjoy what we do and it shows!

Company Profile

We are a total service Entertainment Company and would like to
share our expertise with you. We have live audio clips of the band ONLINE,
an extensive resume and a partial song list which can be viewed on our
website, or you can just simply call our office toll free at 1-800-452-2473
and request any information you need. We offer a free Live Video with our
promotional kits.
We have served the Tri-State area and more for over 20 years and can
offer you a variety of entertainment, tailored to your special needs. We can
provide you with entertainment ranging from a soloist all the way up to full
10 piece bands with full horn sections. We have Band / D. J. packages also.
Online Entertainment is a fully insured Entertainment Company meeting
all insurance requirements for Banquet facilities, Hotels, Casinos & Convention
Centers.
Our personal attention is always accessible. Just call our toll free
number anytime and we will be delighted to make the necessary adjustments
to create a smooth running affair...and that's "when experience matters."
We accept MasterCard and Visa.







Contact Information


ONLINE ENTERTAINMENT
1480 New York Avenue
Whiting, NJ 08759
E-Mail
1-800-452-2473 TBIRDS2@aol.com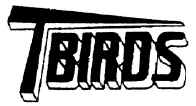 New Jerseys' Top band "ONLINE" formerly known as
"The T-BIRDS"
still perform as The T-BIRDS for specialty Shows
Harmonies you won't believe.
The band has been together over 20 years with
all top musicians from the Jersey Shore.

Click on picture for more information on The TBIRDS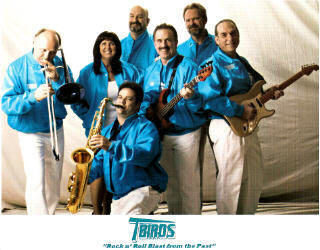 Click Here!!!!
Listen to The T-BIRDS play Live!!!!

Services Band Resume Song list Information form Wedding Links T-BIRDS / Pictures
Live Music Unique Ideas 25 facts to Know